The Downdraft Anesthesia Work Station is specifically designed to provide a small bench-mounted unit with unrestricted access for those procedures that are difficult to perform in a fume cabinet. The downflow action takes the contaminated air away from the operator and an audible alarm will alert the operator when the airflow falls to an unacceptable level.
Features
No ducting or installation costs.
Integral lighting illuminates the work surface.
All mechanisms in the head are on the clean side of the filter, with the switches and electrical components being isolated from any contamination.
The filter clamping mechanism enables the filter to be easily located and ensures an even seal at the filter face.
The main filter block can be chosen from fourteen different types which include specialty filters for vapors of acids, mercury and formaldehyde.
Total airflow = 145 CFM
Work surface face velocity = 80 FPM

Easy to use Control Panel
Includes visual alarm for low airflow to indicate pre-filter blockage.
Automatic "Time-in-Use" counter.
Optional electronic monitoring of both airflow and filter saturation.
Specifications:
Airflow - 145 CFM
Work Surface Face Velocity - 80 FPM
Lighting - 18 watts
Fan - Centrifugal
Supply - 110V/60Hz
Main Filter - 1 x 18 LBS
Low noise level - 52 dBA
HEPA - Optional
Construction - Epoxy coated mild steel
Color - White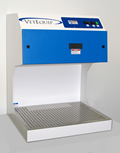 Downdraft Anesthesia Work Station, 24"
Item Number: 966001


Replacement carbon filter for 24" DWS
Item Number: 966002


Prefilters, set of 6, for 24" DWS
Item Number: 966007


Downdraft Anesthesia Work Station, 36"
Item Number: 966003


Replacement carbon filter for 36" DWS
Item Number: 966004


Downdraft Anesthesia Work Station, 48"
Item Number: 966009


Replacement carbon filter for 48" DWS
Item Number: 966010


Prefilters, set of 6, for 36" and 48" DWS
Item Number: 966008

| | |
| --- | --- |
| | Other filters available upon request |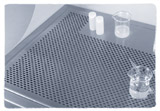 | | |
| --- | --- |
| | Stainless steel tray is removable for easy cleaning and access to the pre-filter. |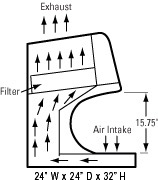 | | |
| --- | --- |
| | Clean air recirculates into the laboratory, so there's no heat loss or costly ducting. |