Induction of inhalation anesthesia in rodents has traditionally been accomplished via a chamber or bell jar. The animals are exposed to an appropriate concentration of anesthetic vapor and O2 until they are rendered unconscious. Removal of the animal usually exposes the investigator to unacceptable levels of waste anesthetic gases.
The vented induction chamber will eliminate exposure to waste anesthetic gases that are most common with traditional induction chambers. The patient is placed into the chamber via a sliding lid. With the lid in the closed position, anesthetic vapor/O2 is introduced into the chamber in the standard fashion. A constant vacuum is applied above the chamber to capture excess gas as it leaves the induction area. When the lid is opened, this vacuum creates negative pressure above the chamber, allowing safe removal of the animal and preventing excess vapor from reaching the investigator.
Specifications:
Lid: Sliding


Gas Inlet: 15mm ID x 22mm OD


Exhaust Port: 30mm OD


Click here for the 7-Liter Vented Induction Chamber Independent Test Data.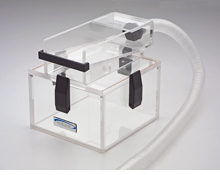 Click here for larger image

7-Liter Vented Induction Chamber
Fresh gas inlet-standard 15mm x 22mm Waste gas outlet-30mm OD


Item Number: 941447




Constant exhaust over the opening of these chambers assure investigator safety. * Excess anesthetic vapor is completely captured during all phases of the induction process, even while removing the animal. Connect to nonrecirculating exhaust, or pair with one of our evacuation units for the latest in anesthesia safety. Available in the standard 2-Liter size and introducing our new 7-Liter model for larger animals or groups of animals. Convenient slide top lid and standard inlet and outlet fittings. 6ft of 30mm evacuation tubing included.