Gas specific regulators with a delivery rate
preset at 50 psi. Outlet is a DISS male connection.


Small E-cylinder mounting hangers are available to complete your portable system. Includes hose and cylinder wrench. Please see "Anesthesia Machine Options" section.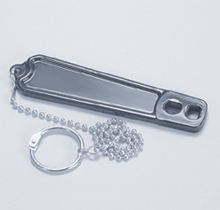 Cylinder Wrench with Security Chain
Item Number: 201744
Make using E-cylinders more convenient by keeping the wrench attached to the anesthesia machine.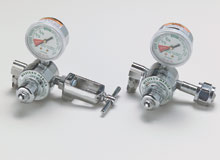 Oxygen, E-cylinder
Item Number: 901305


Oxygen, H-cylinder
Item Number: 901306


Carbon Dioxide, E-cylinder
Item Number: 901302


Carbon Dioxide, H-cylinder
Item Number: 901308


Medical Air, E-cylinder
Item Number: 901309



Medical Air, H-cylinder
Item Number: 901307


Nitrous Oxide, E-cylinder
Item Number: 901303


Nitrous Oxide, H-cylinder
Item Number: 901304



"Carrier gas," usually oxygen, is supplied from a cylinder, large or small, in the procedure room, on the anesthesia cart, or piped through the walls.

If you facility has "piped in" oxygen, you will see either wall plate outlets, gas faucets or drop lines in your procedure area.

If you do not have piped in oxygen, you will need to have a cylinder in your procedure area. Standard sizes are "E" and "H" Most facilities do not own the cylinders, they rent them from a gas supplier. The supplier will rent the cylinders but not the regulators that are required to lower the cylinder pressures to 50 psi. Anesthesia machines need non-adjustable regulators that are preset to 50 psi.

The chart below compares E and H cylinders:
Height

30"

54"

Diameter

3.5"

8.5"

Volume - Liters

651

7107

Initial Pressure

2200 PSI

2200 PSI

Approx. Hrs Use @ 1 LPM

11

118