These chambers are designed specifically for the IMPAC6 system, they do not have standard anesthesia machine connections.
The single and divided chambers are interchangeable.
Positive sealing gasket at lid to prevent leakage.
Confines models while allowing anesthetic gas to be circulated throughout the chamber.
Durable, clear acrylic construction.
Large easy-to-use latches.

_______________________________________________
Recovery / CO2 Chamber
Allows CO2 euthanasia, O2/CO2 anesthesia or use as an oxygen recovery chamber.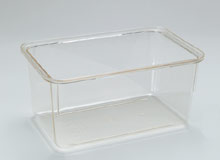 Recovery / CO2 Chamber for IMPAC6
Item Number: 941441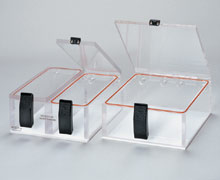 Induction Chamber, IMPAC6, Divided
2 chambers in one unit, each chamber is 4.25" W X 10" D X 4" H


Induction Chamber, IMPAC6, Single
8.25" W X 8.75" D x 4" H