A funnel-shaped cone that makes an excellent anesthesia mask by cutting down on in-mask dead space without restricting access to the eyes or cranium. When fitted in custom made flexible Bain-type circuits they are sometimes suitable for stereotaxic frames.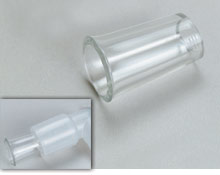 Nose Cone, 9mm, Mouse
Approximately 3/4" in length.


Nose Cone, 12mm, Large Mouse, Small Rat
Approximately 1" in length.


Nose Cone, 14mm, Rat
Approximately 1 1/2" in length.