Mobile
A durable and user friendly configuration on a mobile cart.
Double-leg, weighted-base design helps prevent tip overs.
Handle/hose hanger for storage and ease of movement. This machine frame is designed for stability and strength.
Can be connected to a small "E" cylinder, a larger "H" cylinder or into piped-in gas supply.
Constructed of aluminum frame with baked-on finish that resists scratching and staining.
Includes: 0-4 LPM oxygen flowmeter; oxygen flush valve; vaporizer inlet and outlet; holes to mount most vaporizers; 10' oxygen hose with female DISS on each end.
Does not include vaporizer, regulator, breathing circuits or chamber.
The configuration will readily continue to meet future needs with its ability to hold multiple vaporizers and flowmeters, as well as a variety of carrier gas "E" cylinders.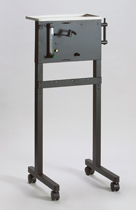 Mobile Non-Rebreathing Anesthesia Machine
Model V-10