Ideal if you have limited floor and counter space.
Permanently mounted on the wall, this 16" wide machine takes up no floor or counter space.
Safely anesthetize animals up to 30 lbs.
Can be connected to a small "E" cylinder, a larger "H" cylinder or into piped-in gas supply.
Constructed of aluminum frame with baked-on finish that resists scratching and staining.
Includes: 0-4 LPM oxygen flowmeter; oxygen flush valve; vaporizer inlet and outlet; holes to mount most vaporizers; 10' oxygen hose with female DISS on each end.
Does not include vaporizer, regulator, breathing circuits or chamber.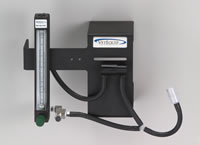 Wall Mounted Non-Rebreathing Anesthesia Machine
Model V-9.